Affordable, embeddable module for low-power cellular connectivity.
Modern industrial and commercial systems increasingly need to securely send data to the cloud, and often enable remote control, as well. These requirements require greenfield or retrofit designs to adapt existing systems to this new operating reality.
The growing danger of connecting devices to the internet using Wi-Fi, combined with the increasing need to track assets while in-motion, has generated tremendous interest in cellular as an alternative for safe and reliable transport of data between devices and the cloud.
To date, however, cellular communications have been equated with high cost, power-hungry devices, and high implementation complexity for hardware and software developers alike.
As an embeddable device-to-cloud data pump, the Notecard eliminates all complexity and friction that exists with existing IoT solutions. It enables development and rapid iteration of production-quality secure cellular IoT solutions at an extremely low, fixed cost. With as little as two lines of code on the controlling MCU, and with no external libraries or dependencies, data can be sent from device to cloud.
Notecard is:
A drop-in embeddable data storage and transport module for cellular IoT products, pumping JSON-formatted or binary data ("Notes") bi-directionally between device and cloud:

JSON from/to MCU application using I2C, Serial, or USB.
JSON to/from your cloud app using HTTPS.
JSON is auto-tagged with date/time, tower, and GPS locations.

A removable and field-upgradable 30mm x 35mm system-on-a-module (SOM).
A cellular device without the monthly fees.
Low-power. Designed to operate on battery power, be "always-on", maintain time & location, while typically drawing less than ~8µA when idle.
MCU-agnostic. Will support any MCU or single-board computer as your app processor - even low-memory, 8-bit microcontrollers.
Global. With both narrowband and wideband modems tailored specifically to North America and Global use. The Notecard can connect in almost any location (see Coverage Tables).
Hassle-free. The integrated, embedded MFF2 SIM features both North American and Global coverage options. No SIM or carrier subscription is required. Includes 10-years of global cellular service with 500MB of data (more data options available upon request).
Secure. Integrated STSAFE Secure Element with hardware crypto, true hardware random number generator, and a factory-installed ECC P-384 certificate provisioned at chip manufacture.
Simple. Uses a JSON command interface over I2C, UART, or USB. Allows you to connect your 3.3V or 1.8V MCU, while eliminating complex AT commands and state to manage.
Power conscious. Integrated GPS with LIS2DTW accelerometer, for power-optimized location/motion awareness. Not to mention a mostly-offline data sync mode for low power, and always-online mode for low latency.
Connected. Provides connectivity without the hassle of dealing with SSIDs, passwords, access points, gateways, carriers, or SIMs.
Encrypted. Secures transactions without any provisioning challenges, using encrypted "off the internet" communication.
Efficient. Battery-powered cellular without the complexity of managing modems, connections, queues, or storage.
Integrated. Utilizes an extremely thin cloud infrastructure that directly routes your data to where it belongs: AWS, Azure, GCS, or your own cloud.
Built for data. Data routing and simple "no code/low code" visual data stream analysis through Notehub.io (SaaS), or host and integrate Notehub functionality into your own app (OSS).
Modem: Quectel EG91-EX
Locale: Global (see datasheet below)
The Notecard is packaged using a compact removable form factor, 30mm x 35mm. Open hardware schematics for Notecard carrier boards are available making it a straightforward task to embed the Notecard into a broad variety of host device designs.
The Notecard has an embedded MFF2 SIM that enables its included cellular service coverage, with an integrated external SIM switch for applications that require such a capability.
The Notecard can interface with the host MCU at either 1.8v or 3.3v levels.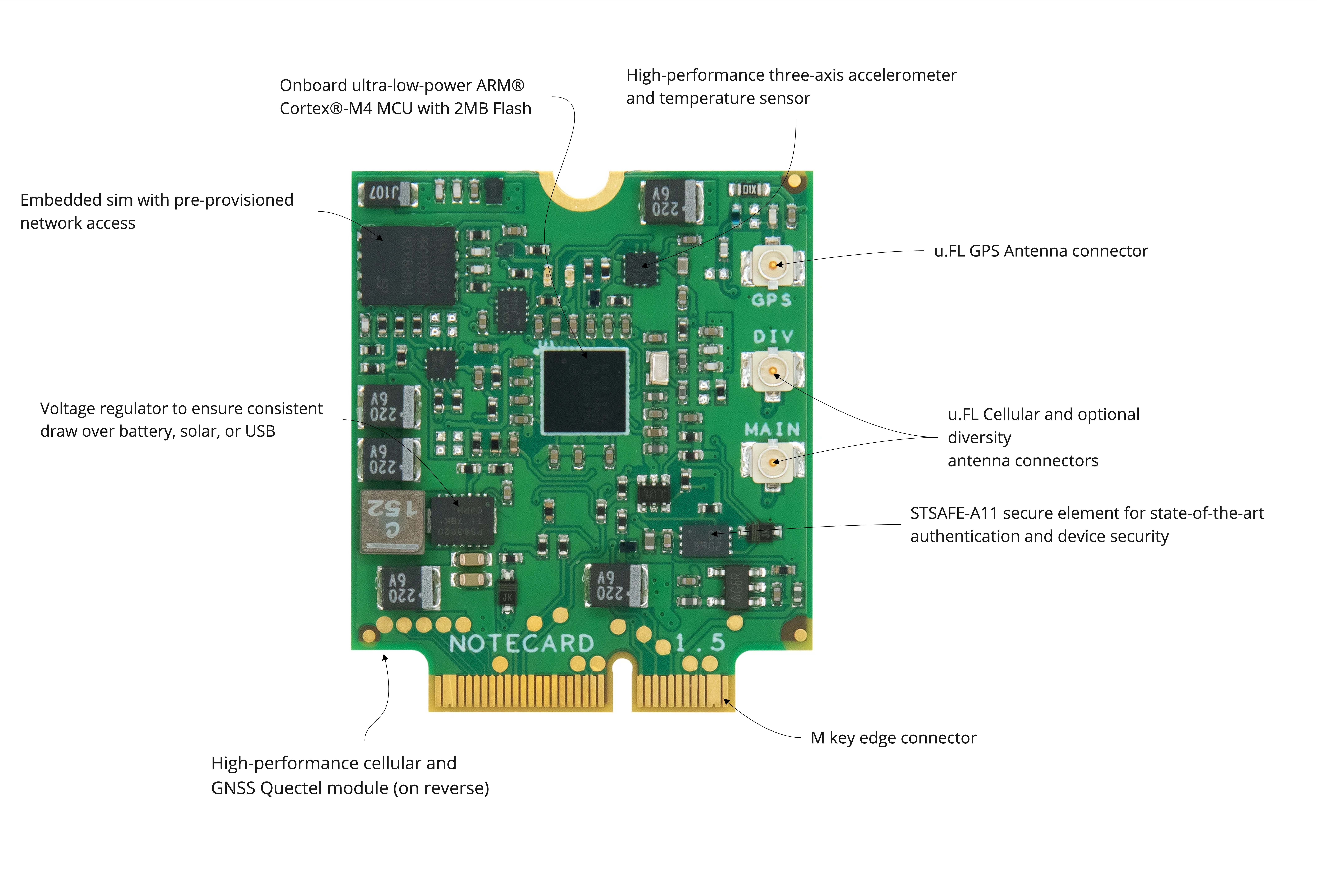 As shown below, Notecard is not an application processor and hosts no customer application code. It can be used as data pump peripheral that is focused on bidirectional, asynchronous, secure data staging and transfer of JSON notes. The Notecard can also be configured as a low powered, autonomous, asset tracking device, in which case it does not require a host processor.

Tracking

Notes transferred by the Notecard can be tagged with time and location. Location is obtained using a GPS receiver, and time is available from both the cellular network and GPS. To optimize energy use in devices when not in motion, the Notecard has a MEMS-based, LIS2DTW accelerometer that determines when use of the GPS is not required.

Security

Modern services require that the cloud and the device perform bidirectional authentication so that neither can be spoofed. For many applications it's important that over-the-air and over-the-wire data is encrypted. For this reason, the Notecard integrates an STSAFE Secure Element which contains symmetric keys manufactured into the chip. Neither the manufacturer of the Notecard nor the manufacturer of the customer's product has any need to handle or manage secure key material. The keys generated by STMicroelectronics for the Notecard use ECC with the NIST P-384 curve, and the signature algorithm is ECDSA-with-SHA384.

Low Power Consumption

The Notecard has sophisticated power control and makes heavy use of variable clock speeds. This enables the Notecard to have a typical idle current consumption of ~8uA at 3.3V, while still supporting active UART and I2C communication.
The Notecard's main supply voltage (VMODEM_P) is used for the cellular modem and associated circuitry. The Notecard has on-board regulators designed for direct connection to a battery, so any voltage in the range of 2.5V to 5.5V may be provided.
The Notecard typically sits in an ~8µA idle mode waiting for a request from the host MCU, however the Notecard current draw increases to the ~250mA range when the modem is active. Furthermore, when in a region requiring the use of GSM, it can spike to up to nearly 2A for a few milliseconds. The modem also draws 10's of mA when the GPS is receiving or the CPU is performing session encryption. Not to mention, the Secure Element draws constant power when enabled to prevent certain side-channel attacks. As such, it's recommended that VMODEM_P be directly connected to a battery or other supply that is capable of such brief spikes. It is also recommended that PCB traces for VMODEM_P and GND be designed to handle such current.
The Notecard's logic voltage (VIO_P) is provided by the Notecarrier or host system for digital communication; it will be either 1.8V or 3.3V. Although the Notecard typically draws very little current, this supply should be designed with a 150mA budget allocated to the Notecard.
| Pin Name | Direction | Pin Numbers | Usage |
| --- | --- | --- | --- |
| GND | -- | 3,5,6,11,18,33,39,45,51,57,71,73 | Ground |
| VIO_P | IN | 2,4 | 1.8V or 3.3V @ 150mA |
| VMODEM_P | IN | 70,72,74 | 2.5V to 5.5V, capable of sustained 750mA draw and brief 2A bursts |
The Notecard requires a cellular antenna. The antenna should support the entire range of LTE bands in use in the region of deployment.
Although all versions of the Notecard require only a single LTE antenna, the "wideband" versions of the Notecard also optionally support a second "Diversity" antenna for maximum range when using LTE Cat-1.
If an application utilizes GPS location, a GPS antenna is also required. The Notecard design allows the option of a passive or active GPS antenna, and can supply a 3.3V - 4.0V bias voltage to power an active antenna's LNA. If an active antenna requires a different voltage, the board designer can inject whatever voltage they require into the antenna's coax by feeding it to the VACT_GPS_IN pin.
If you choose to connect an Active GPS antenna to the Notecard GPS u.fl connector, you are required to provide your antenna's DC bias voltage to the center conductor of the coax antenna via VACT_GPS_IN. For your convenience and the Notecard supplies a 3.3V - 4.0V power supply at VACT_GPS_OUT whenever it activates its GPS, so VACT_GPS_OUT can be connected directly to VACT_GPS_IN. VACT_GPS_OUT must not be used for any other purpose than powering an active antenna Low-Noise Amplifier.
| Pin Name | Direction | Pin Number | Usage |
| --- | --- | --- | --- |
| VACT_GPS_IN | IN | 22 | Active GPS antenna DC bias voltage |
| VACT_GPS_OUT | OUT | 20 | +3.3V - 4.0V from Notecard when GPS is operating |
A 10-year data plan with 500MB of cellular data is embedded in the Notecard, with more available for applications requiring it. No other actions related to cellular activation or deactivation are required. There are no "know your customer" restrictions, so the Notecard can be embedded in a product without knowing the ultimate end-customer. Placement of a product can be permanent. Although global coverage area may change from time to time because of local technical and regulatory restrictions, global coverage currently includes:
| Covered Countries | | | |
| --- | --- | --- | --- |
| Afghanistan | Albania | Anguilla | Antigua & Barbuda |
| Argentina | Armenia | Aruba | Australia |
| Austria | Azerbaijan | Bahamas | Bangladesh |
| Barbados | Belarus | Belgium | Belize |
| Bermuda | Bolivia | Bosnia Herzegovina | Bulgaria |
| Burkina Faso | Cambodia | Cameroun | Canada |
| Cayman Islands | Chad | Chile | Colombia |
| Costa Rica | Cote D'ivoire | Croatia | Curacao (Netherlands Antilles) |
| Cyprus | Czech Republic | Denmark | Dominica |
| Dominican Republic | Dutch Antilles | Ecuador | El Salvador |
| Equatorial Guinea | Estonia | Faroe Islands | Fiji |
| Finland | France | Gabon | Georgia |
| Germany | Ghana | Greece | Greenland |
| Grenada | Guam | Guatemala | Guernsey |
| Guinea | Haiti | Honduras | Hong Kong |
| Hungary | Iceland | Indonesia | Ireland |
| Israel | Italy | Jamaica | Japan |
| Jordan | Kazakhstan | Kenya | Kyrgyz Republic |
| Laos | Latvia | Lesotho | Liechtenstein |
| Lithuania | Luxembourg | Macau | Macedonia |
| Malawi | Mali | Malta | Mexico |
| Moldova, Republic Of | Mongolia | Montenegro | Montserrat |
| Morocco | Mozambique | Nepal | Netherlands |
| New Zealand | Nicaragua | Niger | Norway |
| Palestine | Panama | Paraguay | Peru |
| Poland | Portugal | Puerto Rico | Reunion |
| Romania | Rwanda | Serbia | Seychelles |
| Sierra Leone | Singapore | Slovakia | Slovenia |
| South Africa | Spain | Sri Lanka | St Kitts & Nevis |
| St Lucia | St Vincent & Grenadines | Suriname | Sweden |
| Switzerland | Taiwan | Tajikistan | Tanzania |
| Thailand | Trinidad & Tobago | Turks & Caicos | Uganda |
| Ukraine | UK Mainland | United States | Uruguay |
| Uzbekistan | Virgin Islands, British | Zambia | Zimbabwe |
| Countries Not Included* | | | |
| --- | --- | --- | --- |
| Bahrain | Brazil | China | Egypt |
| India | Iraq | Kuwait | Malaysia |
| Nigeria | Oman | Pakistan | Philippines |
| Russia | Qatar | Saudi Arabia | South Korea |
| Turkey | UAE | Venezuela | Vietnam |
| Yemen | | | |
*These countries are not covered by the embedded MFF2 SIM, and require use of a user-supplied, external SIM
| Pin Name | Pin Description |
| --- | --- |
| ATTN_P | Attention pin (requires protection) |
| AUX_EN_P | Auxiliary serial port enable (requires protection) |
| AUX_RX_P | Auxiliary UART receive (requires protection) |
| AUX_TX_P | Auxiliary UART transmit (requires protection) |
| AUX1 | Auxiliary GPIO pin 1 |
| AUX2 | Auxiliary GPIO pin 2 |
| AUX3 | Auxiliary GPIO pin 3 |
| AUX4 | Auxiliary GPIO pin 4 |
| AUX5 | Alt. attention pin or charge detection |
| GND | Ground |
| NC | No connection (reserved and must be left open) |
| NRST | Active-low (not) reset |
| RX_P | UART receive (requires protection) |
| SCL_P | I2C clock (requires protection) |
| SDA_P | I2C data (requires protection) |
| SIM_CLK | External SIM clock |
| SIM_IO | External SIM input/output |
| SIM_NPRESENT | External SIM active-low (not) present |
| SIM_RST | External SIM reset |
| SIM_VCC | External SIM positive (common collector) voltage |
| TX_P | UART transmit (requires protection) |
| USB_DM | USB data minus |
| USB_DP | USB data plus |
| VACT_GPS_IN | Active antenna GPS bias voltage |
| VACT_GPS_OUT | Active antenna GPS 3.8V from Notecard |
| VIO_P | I/O Voltage (requires protection) |
| VMODEM_P | Voltage modem (requires protection) |
| VUSB | 5V USB voltage |
Link: Digi-Key part number of the connector- Both Digi-Key and Mouser have pictures for this part number that show a component with a different key, but both have links to datasheet/drawing/CAD models.
note
All pins whose Functional Interface is marked "Power" must be connected.
All pins named NC MUST have no connection and be left open because they are reserved for future use. Furthermore, any pin not used in a design MUST also be left open.
Those pins ending with _P may be optionally protected from anomalous external conditions on some Notecarrier designs, depending upon use-case specific requirements.
Notecard supports an extremely rich, simple API whose syntax is standard JSON. The developer can communicate requests to Notecard, generally by using little more than printf function available in most programming languages.
JSON requests and responses (the Notecard's Application Programming Interface "API") may be sent over any of the following interfaces:
USB Serial Interface
UART Serial Interface
I2C Interface
For API usage, names, and parameters, please refer to the Notecard API Reference.
The USB Serial Interface appears to the host as a USB 2.0 Full Speed CDC device. You can access it from Linux, Windows 10 or macOS without a device driver using terminal emulation software. Newline-delimited JSON requests may be sent directly as UTF-8 text over this port, or you may use the open-source Blues Wireless libraries for C, Python, Go, and Arduino.
| Pin Name | Direction | Pin Number | Usage |
| --- | --- | --- | --- |
| USB_DM | I/O | 9 | USB +D data signal |
| USB_DP | I/O | 7 | USB -D data signal |
| VUSB | IN | 13 | +5V from USB |
Note: USB ground MUST be tied to Notecard GND
The UART Serial Interface operates at VIO_P at a fixed baud rate of 9600 using eight data bits, no parity bit, and one stop bit. Newline-delimited JSON requests may be sent directly as UTF-8 text over this port, or you may use the open-source Blues Wireless libraries for C, Python, Go, and Arduino.
| Pin Name | Direction | Pin Number | Usage |
| --- | --- | --- | --- |
| RX_P | IN | 62 | Receive data signal |
| TX_P | OUT | 64 | Transmit data signal |
The Notecard acts as an I2C secondary device operating at VIO_P, and it implements a simple Serial-over-I2C protocol. You can access it from an embedded host using open-source Blues Wireless libraries for C, Python, Go, and Arduino.
| Pin Name | Direction | Pin Number | Usage |
| --- | --- | --- | --- |
| SCL_P | IN | 40 | I2C clock |
| SDA_P | I/O | 42 | I2C data |
Using software, you can optionally configure Notecard to use the ATTN output pin to:
Inform the host MCU of certain asynchronous events (such as incoming data availability, or Notecard motion) in an interrupt-driven manner rather than just polling.
Place the host MCU into a power-off sleep state and wake it back up again.
| Pin Name | Direction | Pin Number | Usage |
| --- | --- | --- | --- |
| ATTN_P | OUT | 54 | Attention pin |
Note: This pin operates at VIO_P. If it is unused, it can be left disconnected.
An optional Auxiliary UART Serial Interface is available on the AUX_RX_P and AUX_TX_P pins. This interface is inactive unless enabled by raising the AUX_EN_P pin since this UART consumes extra power when in use. It operates at VIO_P at a fixed baud rate of 115200 using eight data bits, no parity bit, and one stop bit. If this interface is unused, the three pins can be left disconnected.
The AUX1-4 pins operate at VIO_P and can be configured in software to operate in several optional modes such as GPS Tracking Mode, GPIO Mode, and Internet Button Mode. If these pins are unused, they can be left disconnected.
| Pin Name | Direction | Pin Number | Usage |
| --- | --- | --- | --- |
| AUX_EN_P | IN | 56 | Enables serial port on AUX_RX_P and AUX_TX_P |
| AUX_RX_P | IN | 58 | RX data for serial port enabled by AUX_EN_P |
| AUX_TX_P | OUT | 60 | TX data for serial port enabled by AUX_EN_P |
| AUX1 | I/O | 46 | General Purpose IO |
| AUX2 | I/O | 48 | General Purpose IO |
| AUX3 | I/O | 50 | General Purpose IO |
| AUX4 | I/O | 52 | General Purpose IO |
| AUX5 | I/O | 38 | Alt. attention pin or charge detection |
Note: The auxiliary serial port is normally disabled because it consumes up to 100µA of power when enabled.
Notecard contains an integrated, embedded MFF2 SIM but may also be configured to use an external 1.8V Micro-SIM via this interface. This interface is powered by the Notecard. Note that use of an external SIM card also requires that the Notecard be re-configured in software with the APN, access technology, and bands appropriate for the SIM's carrier.
| Pin Name | Direction | Pin Number | Usage |
| --- | --- | --- | --- |
| SIM_CLK | OUT | 14 | Clock |
| SIM_IO | I/O | 12 | Data |
| SIM_NPRESENT | IN | 16 | Active-low input indicating presence of SIM card, else must be NC. Required if an external SIM is used, and is supported by the mechanical switch in SIM card slot hardware. |
| SIM_RST | OUT | 10 | Reset |
| SIM_VCC | OUT | 8 | +1.8V supply for external Micro-SIM |
Use of this pin is optional. If the host system has a global reset line, caution should be used when connecting this pin to the host system's reset because the Notecard may independently pull the line low in software. Restrictions on this pin are:
If this pin is not used, it must remain not connected (NC).
The pin is active-low. It must be held low for at least 350nS for a clean reset.
This pin must never be pulled-up. A pull-up would interfere with the Notecard's own internal watchdog timer and thus will prevent reliable operations.
Some Notecarriers may invert this signal to be active-high.
| Pin Name | Direction | Pin Number | Usage |
| --- | --- | --- | --- |
| NRST | I/O | 67 | Active-low reset |
| Description | Minimum | Maximum | Unit |
| --- | --- | --- | --- |
| Storage temperature | -35 | 70 | °C |
| Description | Minimum | Maximum | Unit |
| --- | --- | --- | --- |
| Supply Voltage | 2.5 | 5.5 | V |
| Certification | Date |
| --- | --- |
| PTCRB "socket modem" certification as an "End-Product" | February 2019 |
| CE: EN 55032:2015, Class B | October 2020 |
| CE: EN 55035:2017 | October 2020 |
| CE: EN 301 489-1 V2.2.1 (2019-03) | October 2020 |
| CE: EN 301 489-50 V2.2.1 (2019-04) | October 2020 |
| CE: EN 301 489-52 V1.1.0 (2016-11) | October 2020 |
| CE: EN 61000-4-3:2006 +A1:2008 +A2:2010 | October 2020 |
| CE: EN 61000-4-4:2012 | October 2020 |
| CE: EN 61000-4-6:2014 | October 2020 |
Visit Blues Hardware Terms & Conditions
| Author | Date | Summary |
| --- | --- | --- |
| Ray Ozzie | 2019-2020 | Document drafted |
| John Wiedey | 2020 | Various improvements |
| Sean Taylor | 2020 | Various improvements |
| Zachary J. Fields | 11 SEP 2020 | Updated information and translated to markdown |
Blues Inc.
https://blues.io
50 Dunham Ridge Suite 1650
Beverly, MA 01915
support@blues.io